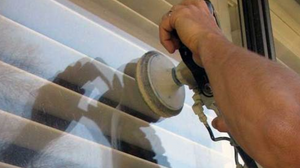 Glass Restoration
Regular price $150.00 Sale
Glass Restoration:
True Blue Crew offers glass restoration services for hard water and scratch damage. Rather than replacement being the only option we are one of the few service providers in the area that offer this cost saving alternative solution. We can usually restore glass back to looking as good as new for only about 1/3 of the replacement cost.
Hard water damage however is a symptom. We are a company that cares about our clients. While treating your hard water damage symptom over and over again may be good for our bottom line in the short run, it just isn't the right way to treat clients. For this reason we emphasize to our clients to change the root of the problem prior to having us do a restoration. Most times this is as simple as a misplaced sprinkler head. After our restoration is done and your glass is back to looking amazing we want it to stay that way for you, even if it means we won't be coming back for glass restoration again. 
Another way we go the extra mile to do the job right is by following up the glass restoration process with an application of an expensive sealant to help protect the surface of the glass in the future. This is a very important final step in the process which is skipped by many due to the added expense and the fact that the client won't notice a visible difference or even be aware that it's needed.
Typical types of glass restoration jobs we tackle:
Hard water build up and etching removal
Scratch removal
Preventative protection treatment
Shower enclosures
Greenhouses
Contact us for a custom quote.
$150 Hour